Motorcycle Accidents Attorney in St. Louis, Missouri
Riding on a motorcycle is an invigorating experience. Motorcycle enthusiasts love the freedom and the feel of riding their bikes on a long stretch of open highway. However, motorcyclists face a number of serious risks while riding on the road.
The Mounting Battle
Many motorists that hit a motorcyclist will often claim that they were blindsided, possibly insinuating that the motorcycle rider maneuvered carelessly, therefore causing the accident. In these scenarios, it might be difficult for a motorcyclist to receive compensation or a fair settlement to help treat injuries after a motorcycle accident.
You need a St. Louis motorcycle accident lawyer offers to defend your case. The Law Offices of Joe Phillips understand the mounting battle that the motorcycle rider may face in seeking fair compensation for a serious injury.
Common Motorcycle Injuries
Wearing a helmet while riding a motorcycle on the road is a helpful safety measure that can prevent or lessen injuries in the event of an accident. But simply wearing a helmet may not be enough to prevent a brain or spinal cord injury—or even save your life. In a motorcycle accident, you are certainly susceptible to other serious injuries.
A motorcyclist may suffer various types of injuries that include:
Spinal injury

Neck injury

Fractures or broken bones

Brain injury
However, if you are not wearing a helmet, then this will likely be a factor in your motorcycle accident case that might even work against you. Will you be financially penalized for possibly contributing to negligence and not taking the extra safety precautions?
A reputable and experienced St. Louis motorcycle accident lawyer will be able to help preserve your rights and represent your case and fight for a proper settlement—regardless of the severity of your injuries.
Get the Right Legal Representation with a St. Louis Motorcycle Accident Lawyer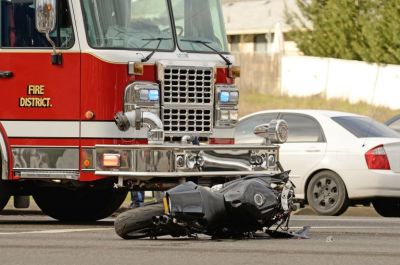 The Law Offices of Joe Phillips will work aggressively to ensure that you receive the compensation you need so you can move forward with your day-to-day life after your motorcycle accident. We are exactly the legal team you need on your side during such a confusing and exhausting time.
The Law Offices of Joe Phillips will do everything we can to ensure that you are fully compensated for the injuries you sustained in a motorcycle accident.
We are board-certified attorneys specializing in personal injury law, and we have many years of experience and the legal knowledge to successfully handle your motorcycle accident case. We are always prepared—whether your case has to go to trial or settlement negotiation is the best option. We are here to fight for you!
For more information on how the Law Offices of Joe Phillips can help you with your motorcycle accident injuries and case, call us today to schedule a free consultation.