What to Do After a Construction Accident in St. Louis
Feb. 19, 2016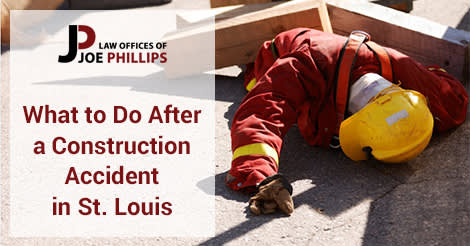 Industrial, construction, and warehouse workers in Missouri face the possibility of being seriously hurt every day on the job. This is because of the risks inherent in working in these dangerous environments, such as exposure to chemicals, heavy machinery, and tools.
Even if all the proper safety precautions are followed to the letter, accidents can and do still happen. The sad result of these accidents, though, could be that the employee who has been injured may never be able to work or live his life the same way again.
Construction Is Everyday Life in Missouri
There are always areas of Missouri that are under construction. The industry supporting these projects use warehouses to keep track of tools and various pieces of machinery needed to complete construction.
Even one act of negligence in a construction warehouse can lead to catastrophic injuries, so it is better to avoid them where possible. Serious warehouse accidents alter the lives of the workers inside all too often.
Check out this site to learn more about warehouse and construction jobs in the United States, and the number of fatalities that occurred in construction and warehouse-related accidents.
If you've been injured in a recent construction or warehouse accident, then visit here to learn more about your rights, and how working with a St. Louis construction accident lawyer can increase your chances of a good settlement.
Common Construction and Warehouse Accidents
There are many different ways that a warehouse accident in St. Louis can happen.
Some of the most common accidents include:
Gas leaks

Explosions

Fires

Elevator accidents

Forklift accidents

Being hit by heavy machinery

Crane accidents

Malfunctioning equipment

Electrocution

Overexertion
Common Construction and Warehouse Injuries
Each accident in a St. Louis warehouse is unique, and therefore has unique implications. There are some common threads with regard to the kinds of injuries sustained in these accidents. The following injuries can be severe and can change your life in big ways.
Some common injuries include:
Brain damage/head injuries

Burns

Crushed or broken bones

Spinal cord injuries

Knee injuries

Shoulder injuries

Back pain

Paralysis

Blindness or deafness

Loss of limb

Eye injuries
In the wake of an accident and suffering with injuries—not to mention being out of work—your medical bills are likely growing faster than you can keep up with, and that is to say nothing of the stress and emotional impact of an accident to this scale…
What to Do Next
If you were involved in a warehouse accident where another party was believed to be negligent or at fault in some manner, then you may be eligible to file a personal injury lawsuit.
While an employer may be protected from liability for accidents that happen on the job (usually as a result of workers' compensation), there are other potential avenues to explore as it relates to third parties.
Some of the third parties that could be held responsible in a warehouse or construction-related accident can include:
Manufacturers of equipment that you use on the job

Truck drivers who are not employed by your company

Subcontractors
Since warehouse and construction accidents can be complex, and can even involve more than one party, it is in your best interest to consider working with a St. Louis construction accident attorney to look after your best interests and to answer your questions.
When Employers May Be Liable
Your employer does not always have immunity from situations where an employee is injured. If the employer violated safety regulations, for example, you may be able to file a personal injury suit. Your employer is responsible for keeping your safety in mind on the job and thus following all safety protocols and regulations.
Consult with a St. Louis Construction Accident Lawyer
With so many factors involved in a construction or warehouse accident case, it's a wise idea to consult with a St. Louis construction accident lawyer to determine whether you have grounds for a claim and why kinds of compensation could help you put your life back together post-accident.
If you sustained any injury from a construction or warehouse accident, then visit here to get started with a St. Louis construction accident lawyer immediately.