I Was Injured in A Slip and Fall Accident. Do I Have a Personal Injury Claim?
April 22, 2016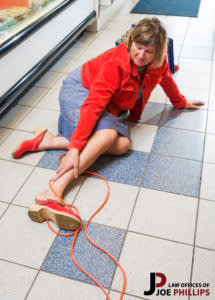 The mental image of a slip and fall accident that comes to mind is probably a cartoon character slipping on a banana peel. But slip and fall accidents are nothing to joke about.
In fact, slip and fall accidents lead to 9 million emergency room visits annually and are one of the leading causes of unintentional deaths across the United States. The CDC website has more statistics on slip and fall accidents.
Furthermore, recovering from injuries sustained in a slip and fall accident can take months or even years. Many individuals who are injured in a slip and fall accident are surprised to discover that their pain and suffering sticks around for a lot longer than expected.
In the worst-case scenarios, accident injuries can keep them from being able to hold down a job or to enjoy their lives as they did before the accident.
You should never minimize the potential implications of a slip and fall accident. Slip and fall injuries can leave anyone with major ramifications for the rest of their lives, but an older adult may find recovering from a slip and fall accident even more difficult.
Your Next Steps
Once you've received proper medical care, you should also speak with a personal injury lawyer as soon as possible. You may be entitled to compensation for your injuries depending on whether or not someone else's negligence or reckless behavior was responsible for the injuries you sustained.
What Now?
If you or someone you know has been seriously injured recently in a slip and fall accident in St. Louis, then it's important to take your physician's or health care provider's medical recommendations seriously and make it a point to discuss your accident and conditions with a personal injury lawyer.
A personal injury lawyer can examine all aspects of your case and determine whether or not it meets the grounds for pursuing compensation, and what that claim might be worth.
For example, if a property owner or manager was aware, or should have been aware of said liability, but failed to act regarding the situation of a dangerous condition on his or her property where you slipped and hurt yourself anyways, then you may have grounds for a personal injury claim.
As mentioned above, it is not in your best interest to minimize the implications of your injuries as this can impact your life for many years to come. If a property owner should have dealt with a cracked sidewalk, peeling carpet, or wet and hazardous surface but failed to do so, a personal injury attorney can help you to gather the appropriate evidence and organize a case to move forward with a claim.
Common Injuries Associated with Slip and Fall Accidents
There are many different injuries associated with slip and fall accidents which is why they are a leading cause of emergency room visits and accidental deaths every year.
Some of the most common include:
Hip fractures

Head injuries

Spinal cord injuries

Back injuries

Shoulder injuries

Fractures

Sprains
Regardless of the injury, you have sustained in a St. Louis slip and fall accident, it is essential that you reach out to an experienced personal injury lawyer with a proven track record as soon as possible.
Remember, the statute of limitations gives you a specific and limited period of time in which you may move forward with a premises liability or slip and fall accident claim.
How Can a Personal Injury Lawyer in St. Louis Help Me?
The compensation you receive from a successful claim could be critical for allowing you to put your life back together and to receive the medical treatment you need in order to move forward.
If someone else responsible for maintaining a property should have done a better job in warning you about a potential hazard or removing the hazard entirely, then you need to consult with a personal injury lawyer.